NB! No longer let by Price Apartments try another location or email us for suggestions.
Notting Hill
A two bedroom flat in London's Westbourne Park area, between Talbot Rd and Westbourne Park Rd, close to Portobello Road with it's market and antique shops, Notting Hill Gate and Queensway.
This flat will sleep up to 6 people with two double bedrooms and a futon sofa-bed in the living-room shown below and is available for lets of 90 days or more subject to availability.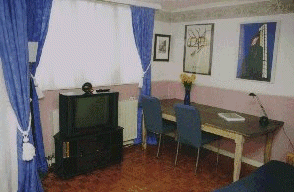 One of the bedrooms has a double bed and the other twin beds.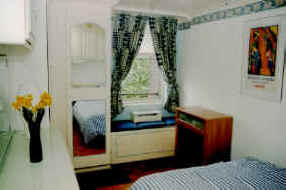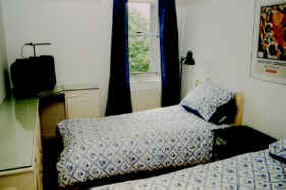 There is excellent storage space in the flat. two TV's and a video recorder. Washing machine and tumble dryer, fridge/freezer and microwave.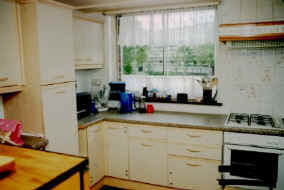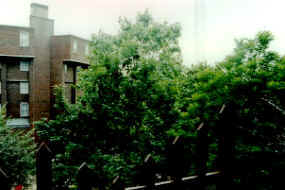 The property which is two flights up, with elevator, also has a small balcony off the living-room.
LOCAL INFORMATION
This is Zone 2. The closest underground station is the Westbourne Park stop on the Hammersmith and City Line, which is straight up the Great Western Road. You can take it to Baker Street and change for many other lines.
You can also take the 7, 28, 31, or 70 buses, most of which you can catch on Westbourne Park Road just to the right of Great Western Road and on the opposite side of the street (in front of the store with the bright green front) for downtown and Queensway. If you walk to the corner of Chepstow and Westbourne Grove, you can also get the 23 and 27. The 7 goes to Russell Square and the British Museum; the 70, which does not run on Sundays, goes to the South Kensington tube station, which is near the Natural History Museum and the Victoria and Albert Museum. The 31 goes from Chelsea to Camden Town. The Camden Town market is on Sundays. The 27, 28, or 31 will take you to the Notting Hill Gate tube stop, where you can get either the Central or Circle and District Lines. The 7, 23, 27, and 70 buses go to Queensway, which is probably a 10-15 minute walk from here. If you walk down Queensway, toward Bayswater Road, you will find WHITELEYıS, a local landmark. Whiteleyıs is now a giant mall with lots of shops and movie theaters, and even a rudimentary food court. There is a Marks and Spencerıs food hall. Their prepared meals are quite good and save lots of preparation, if you want a simple meal and donıt want to go to a restaurant. If you continue down Queensway toward Bayswater, you will also come to Circle and District and Central line stations. Most of what you may need, including a post office and several bookstores, can be found on Queensway.
If you just want some staples, there is a good bakery on Chepstow Road almost at the corner of Westbourne Grove. Around the corner, on Westbourne Grove, is the Food Cave, where you can get milk, coffee, tea, etc. Across the street, is a large newsstand.
RESTAURANTS
There are many good, reasonably priced restaurants on Westbourne Grove, mostly toward the Queensway. Walk down Chepstow Road and turn right on Westbourne Grove for MANDOLA, the Sudanese restaurant recently reviewed in the NY Times. The food is good but the service is casual, at best. They have no liquor license, so BYOB.
If you turn left on Westbourne Park Road, you have your choice of many restaurants. The Chinese restaurant at the corner of Hereford Street is excellent but expensive. The STANDARD INDIAN RESTAURANT, which is considered by many to be the best Indian restaurant in London, is nearer the Queensway and is quite reasonable. There are several restaurants on Westbourne Park Road towards Chepstow and one quite good Thai one just on Chepstow as you turn off Westbourne Park Road
LOCAL ATTRACTIONS
Portobello Antiques Market (Saturdays) is a few blocks away. Go out the front of the building (where the elevator is) and make a right on Talbot Road. This will take you to the top of the Antiques Market. Turn left for major part of the market. If you turn right , you will find a quite good food market plus a Tesco supermarket, which is open regular store hours -- which is now 7 days a week most of the U.K.
The other part of Westbourne Grove, famous for its antique shops, restaurants and trendy boutiques. It has become a major tourist attraction for upscale visitors. It runs roughly from Chepstow to Portobello....great for window shopping.
In the bookcase in the hall there are stacks of brochures about London attractions, maps and tube and bus schedules. We recommend you get a daily, weekend or weekly 2 zone tube and bus pass if you are staying for awhile....you can hop on and off buses all over the city or duck down a tube. The bus system is quite fantastic and though sometimes you will get stuck in traffic, you get to see a great part of the city plus some areas that are not on the usual tourist routes. Travel cards can be bought at any tube station.
LOCAL HISTORY, ARCHITECTURE, ETC.
We are on the border of Notting Hill (to the West) and Bayswater. Both areas were developed in the early to mid nineteenth century to house the growing middle class. The architecture ranges from late Regency to early Italianate Victorian.
TELEPHONE
The telephone is a private line -- the number is on the dial. Feel free to give it out. You will be charged 10p per unit (outgoing calls) when you leave. No calls, no charges. A unit can last from a few seconds for a long distance call during the peak period to 6 minutes for a local call during the cheap period, which is from 6pm to 8am and on weekends. Transatlantic cheap rate starts at 6pm. To reach the States, dial 001 + area code + number. Weıve found that calling direct to the U.S. is the cheapest method -- far better than calling cards and other gimmicks which seem to have high initial charges.